Most of the original portraits reproduced in the "One World" book are crafted in watercolor; a few are in oil. The artist, Faye Sepahban, finds working in watercolor exciting because it is an unforgiving and challenging medium. Her work with Editions Sandelius in Paris, where she had a slew of tight delivery schedules, solidified her passion for watercolor. Through all of her travels, she also found watercolor to be a more portable medium.
The inspiration for these portraits started many decades ago when Faye's main hobby as a child was to look for interesting images of countries and their people, cut them out, and make scrapbooks. She also became interested in ethnic costumes, which she would adopt for her daughter, Sonya, on special occasions like her birthday. Years later, Faye and her daughter journeyed together to many parts of the world — including China, Egypt, and other far-away places. Memories of ethnic people she met and photos she took during these trips, along with beautiful images in books, travel guides, magazines, and other media pieces, have all provided bits and pieces to inspire the portraits in the "One World" book. "With every portrait," says Faye, "I've travelled in my imagination to the region where it is set. I've experienced the joy of the people and their culture, as well as the oneness of this world."
Veteran freelance writer, Maureen McDonald, and her talented team bring the portraits to life with well researched and documented cultural facts and information. The book is beautifully designed and published by Ed Peabody and his expert team at Hour Media, the respected publisher of "Hour Detroit" and other well-known publications.
ACCOMPLISHED WATERCOLORIST and world traveler Faye Sepahban shares the fruit of two decades of hard work and dedication to her art with this collection of original portraits representing 45 regions of the world. Her hope is to promote oneness, peace, and harmony among people of the world.
AFGHANISTAN
ALASKA
THE AMAZON
ARGENTINA
AUSTRALIA
AZERBAIJAN
BULGARIA
CANADA
CENTRAL AMERICA
CHINA
COLOMBIA
EGYPT
ETHIOPIA
FRANCE
GHANA
GREECE
GUATEMALA
HAWAII
INDIA
INDONESIA
IRAN
ITALY
JAMAICA
JAPAN
KENYA
MALAYSIA
MEXICO
MONGOLIA
THE NETHERLANDS
NEW GUINEA
NIGERIA
PERU
POLAND
PORTUGAL
RUSSIA
RWANDA
SERBIA
THE SERENGETI
SPAIN
TAHITI
THAILAND
TIBET
TURKEY
UNITED KINGDOM
UNITED STATES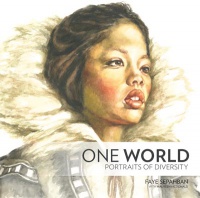 $49.95
One World: Portraits of Diversity
By: Faye Sepahban